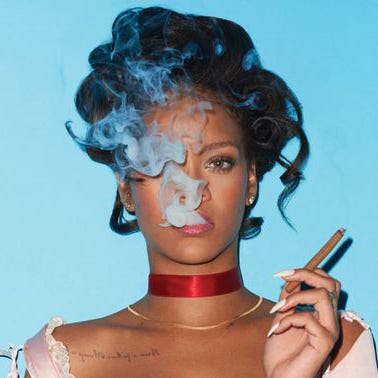 CR Fashion Book/Terry Richardson
Like any other holiday, 4/20 calls for an array of chic accoutrements to celebrate. Whether you choose to participate in the day with a smoke break, or simply want to show some green pride à la emblematic accessories, we've got you covered with these fashionable weed products. Shop our picks below, and float on your stylish stoner way.
Jacquie Aiche
jacquieaiche.com
$1,165.00
This denim button down hits a high note with a snakeskin leaf patch placed on the back.
Edie Parker
fwrd.com
$570.00
Carrying your cannabis has never been more chic with a rosy clutch that says it all.
Concrete Cat
shop-tetra.com
$80.00
No need to stow away your smoke accessories when they come in pretty colors. These handmade pipes come in various pastels and are coffee table approved.
Shine
shinerollingpapers.com
$10.00
Add a luxe element to your rolling game with these 24K papers.
Hemp CBD Infused Lip Balm
Vertly
vertlybalm.com
$22.00
Handcrafted with a hemp-derived cannabinoid extract, this lip balm has benefits like anti-inflammatory, anti-anxiety and anti-oxidant properties.
JA x Sweet Leaf
jacquieaiche.com
$275.00
This handmade ceramic set is functionality at its finest, complete with a rolling tray, stash jar, and ash tray.
Andrew O. Hughes
shop-tetra.com
$800.00
Make your ash tray feel like an art piece with this rose-citrine dichroic glass cast version.
Magical Butter
magicalbutter.com
$12.95
Made with ethically traded ingredients, this creamy dark chocolate is specially formulated for adding herbal butters and oils so you can cook up the high dessert of your dreams.
Sweet Leaf Snakeskin Clutch
Jacquie Aiche
jacquieaiche.com
$2,400.00
Keep all your essentials in one spot with this snakeskin clutch, complete with card slots, matching blunt holders and lighter.
These sativa candies are a sweet and subtle way to achieve a euphoric high.
Cannabis Rose Eau de Parfum
Weed smoker or not, you won't be able to stop spritzing this this alluring, floral scent.
This high tech vaporizer takes both dry herb and extract, and shows heating status, battery life, and temperature settings through an LED light.
KellysMagnets
etsy.com
$18.00
This art deco case is a chic way to keep your joints safe and tucked away.
Vetements
modesens.com
$420.00
This gold monogram necklace gets a second when you open up the pendant, giving you a grinder whenever you need.
Ensure that your rolling technique is on point with a little help from this lavender glass tip.
Sunday Goods
sundaygoods.com
$25.00
Formulated with aroma therapeutic effects that help compliment your cannabis experience, add one to your bath for the ultimate way to unwind.
Tetra
shop-tetra.com
$20.00
Light up with these compact, rechargeable lighters that come in an array of sleek colors.
Sweet Leaf
jacquieaiche.com
$5,000.00
Add a subtle leaf touch to your look with these pave diamond hoop earrings, available in 14K rose, yellow or white gold.
Herb Grinder Card with Sleeve
Green Goddess Supply
amazon.com
$9.99
These grinder cards seamlessly fit in your pocket or purse, so you can grind up your greens in transit.
Marley Natural
marleynaturalshop.com
$162.00
This standing glass pipe feels all grown up with its elegant wood touches.
Harold
shop-tetra.com
$18.00
Keep your smoking habits natural with these rolled filter tips, hand-planed from slabs of maple wood by the New York design studio Harold.
Tetra
shop-tetra.com
$90.00
This kit has everything a smoker needs when traveling: rolling papers, an acrylic box for storage, Japanese eyedrops and lighter, all put together in a sophisticated leather pouch.
Milk Makeup
milkmakeup.com
$10.00
Fight shine and foster smoke with makeup blotting sheets that double as rolling papers.